Implementation of National Education Policy at IIMT University
NEP 2020 is one of the largest milestone of the Indian Education system as it is one of the most comprehensive, structured and focused education policy under the chairmanship of illustrious scientist Dr.K Kasturirangan to meet the contemporary and futuristic needs of Indian youth and employment in India.
The Task Force constituted for NEP implementation meticulously worked hard to understand NEP, identified key action plan and goals, laid the roadmap for the proper execution so as to reap the maximum benefits in the interest of the stakeholders thus working on the vision of the New Education Policy-2020.
For the effective, smooth and uniform implementation of NEP-2020, a three step NEP implementation plan is formulated by the task force of IIMTU (IP Protected).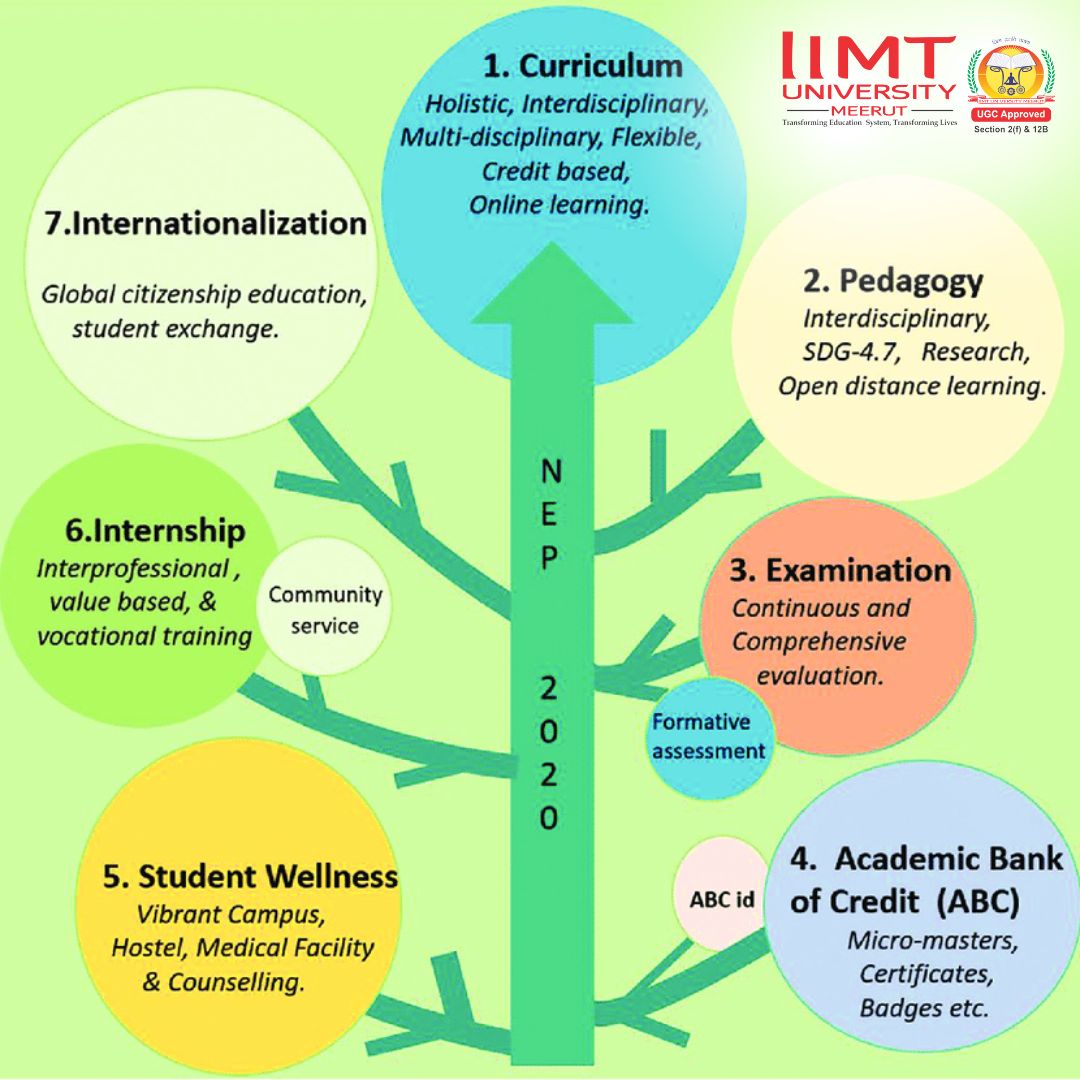 Flexible Curriculum Structure and Length of programmes-
Revamping the Curriculum and restructuring the academic programme-IIMT University through its Board of Studies (BOS) which comprises of Academicians of institutions of national repute, Leading HR Professionals and Experts from the Industry develops, modify the curriculum as and when required.
BOS follows standardized and all-inclusive procedures to develop a new curriculum and to review &modify the existing ones on the basis of feedback of the faculty members, students, alumni & Industry employers. The length of programme is also made flexible so as to provide space for Industry Credentials and the final placements.
Multiple Entry and Exit
Introduced the multiple entry system in different Programs as per attached format-1 of NEP implementation plan
Choice based Credit System and Academic Bank of Credits (ABC)- To get the benefit of ABC, the Registration and ID generation of the University is done on digilocker.
Choice Based Credit System-
The Student Centric & LOCF, Credit based choice system was implemented at IIMT U in all UG programs in the year 2019 as per UGC guidelines. As per CBCS, the various courses to be taught in UG programmes are categorized into different categories viz, Core papers/ Courses (4 Credit +2 credit Practical /6 Credit each) pertaining to subject specific, Discipline specific elective papers/ Courses, 6 credit each pertaining to subject specific elective papers/ Courses, General electives give freedom to the student to study the courses of their choice from other discipline, Ability enhancement compulsory courses are pertaining to communication courses, professional communication, Environmental Science, Human Values and Professional Ethics, Publication ethics etc.

Skill enhancement courses includes skill based courses/ minor certification courses of Coursera , NPTEL, IPR certification /diploma in association with Department of Science and Technology, Entrepreneurship and Innovation etc. To inculcate value addition education and Indian Knowledge System, Courses like Indian Ethos and Modern Management, Human Values, Publication Ethics, Certification in Sanskrit Language as Conservation and Propagation of ancient Indian Language, USR activities are clubbed with the Curriculum.

It is said that healthy mind resides in healthy body, Sports/ Yoga are also the part of Curriculum as Non Credit/Audit Courses with facilities viz Swimming Pool, Shooting academy, Cricket academy, Basketball and Badminton courts etc.

In compliance with NEP 2020, Courses like "Ability Enhancement Compulsory Course" (AECC) of 3 Credits and "Skill Enhancement Course" (SEC) of 2 Credits are integrated in the Curriculum. Human Values and Professional Ethics, Environmental Science, Professional Communication, Professional Skills are such subjects which are compulsory for the students to follow. Courses from Saylor Academy, USA, Coursera, NPTEL and NSDC, IPR (from DST, TIFAC) helps the students to get updated and become Industry Ready.
Ending Fragmentation-
According to the NEP-2020, integration of Vocational education with general education has taken place through the courses of NSDC.

Integration of Arts and humanities and Social Science with Science, technology, Engineering and Mathematics (STEM) has taken place through the Credit Course like Human Values and Professional Ethics, Entrepreneurship development ,professional communication and professional skills in B.Tech, BCA, MCA and B.Sc (CS), B.Sc (life sciences) etc.

Integration of Values with Skills is possible through the courses like Human Values and Professional Ethics, guest lectures from spiritual gurus and participation in University Social Responsibility activities.

Courses on Life Skills and Professional Skills are introduced in all the Courses of the University.

Plethora of Co-Curricular activities and Extra-Curricular activities are integrated with the curricular activities.

As a Testimony for enabling and maintaining innovation ecosystem within the University, IIMT U has received 4 star out of 4 from the Institution Innovation Council, Ministry of Education, GoI. Also inclusion of activities like debates, Extempore, Declamation, Quiz, presentation competition, Case Studies, field visits and internships as the part of teaching methodology.

Integrating Traditional pedagogy of classroom teaching, assignments, class tests with the modern and innovative pedagogy that includes brainstorming sessions, case studies, internships, field visits, and project presentation with hi-tech smart classes.

Integration of ancient knowledge of Bhagwad Geeta, Upnishads, Mahabharata, Ramayana, Bible and Quran with modern knowledge of management and leadership as a Course "Indian Ethos and Modern Management."
Discussion on curricular reforms - Consistent discussions on curricular reforms at the university takes place. BOS and the academic council often organizes these brainstorming sessions to strengthen the educational standards of the University in line with the vision of NEP 2020. Systematic feedback from the Alumni, Industry Experts, Employers, and Faculty & Students are taken, analyzed and incorporated in the curriculum so as to bridge the gap between the Industry & Academia and getting strong placements. On the basis of the feedback, the Curriculum is revised and revisions are approved by BOS.
Feedback System - There is a comprehensive feedback system in the University which is an important resource for the revision of curriculum and overall development of the University according to the stakeholders. All the schools of IIMT University has an organized system of taking feedback from students on Teaching Learning methods, Course Curriculum, Infrastructural facilities and various general aspects every month. The received feedback is analyzed and the findings for improvement are sent to respective Heads/ Deans of the Schools.
Outcome based Education – OBE, Outcome based education has been introduced as per NEP. Every step is taken to ensure that the Course Objectives (C.O's) are mapped to one or all the Programme Objectives (P.O's) and are the foundation of Curriculum Development, Evaluation Strategies and the teaching Learning Process. Each course whether theoretical, practical, internship based or workshop based are meticulously & prudently design to meet the Programme Objectives.
The framework of Bloom's taxonomy consisted of Knowledge, Comprehension, Application, Analysis, Synthesis and Evaluation is applied during the development of the CO's. Each Course thus helps in meeting the P.O's and the graduate attributes are achieved. For this purpose, Inpods are utilized.
Multidisciplinary, Intradisciplinary and Interdisciplinary approach
We are offering multidisciplinary courses like Artificial Intelligence and Machine Learning in CSE Field, CSA Field, IOT &EV, Mechatronics, IoT &Environment, Iot &Computers, Chemistry, Pharmacy etc. Agriculture & Bioinformatics, AI&ML and Agricultures, Electronics &Agriculture IoT & Electronics, IPR and Law, IPR & Basic Science, IPR and Engineering, E&I and Engineering, Pharmacy, Agriculture, Data analytics in Management, Engineering and Management, Business analytics in Management, Statistics, tally course integrated with B.Com, Python and Java integrated with B.Tech CS etc.

Wide range of elective Courses of multidisciplinary nature – Courses on Value education, Yoga, Indian Knowledge System, Indian Classical Literature and Glorious Past of India are running with all the courses of the University.
Multidisciplinary Research
Creation of an environment where Multidisciplinary research can take place is the prime focus of IIMT University. The result is that 110 patents exists with the university and number of start-up have also increased. Ideathons and hackathons are organized and students are encouraged to participate in National level Hackathons like IDEA HACKATHON-2022 1.0 & 2.0 organised by MSME on 30th June 2022. Various research projects are funded by MSME, Govt of India.

University has established its own IPR cell , R&D cell, Entrepreneurship development cell, Skill Development Cell, two business Incubators -IIMTU-BI (approved by GOI, ministry of MHRD& MSME) and IIMTU-Business Incubator Foundation (registered under section 8 of Company Act 2013, a non-profitable entity for the promotion of research, innovation, incubation and start-ups.

The R&D cell is a centre of multidisciplinary research and act as a bridge between the University and Industries.

IIMT University has a culture of cross-disciplinary and interdisciplinary research which allows the students to enroll in the Ph.d programme other than their core subjects.

R& D cell promotes new ideas and facilitates projects and internship based on community service and development.
Technology in Education/ digitalization in Education
We are using Technology based platforms like NPTEL, SPOKEN TUTORIAL, COURSERA, SWAYAM etc, use of R software (open course), in statistics, Data Analysis,

We have tie-ups with NPTEL(IIMTU is the active Local Chapter), Amazon- web services, Google ( GCCP &ADF), E-yantra, Swayam (free online education), Virtual Labs (An MHRD Govt. of India initiative), National Academic Depository (Transparency and Transformation through digitisation)

Courses in collaboration with Capgemini and Accenture runs on the hybrid mode and students are trained on the standards of these organizations. These initiatives touches the component of "Technology use and Integration" of NEP 2020.

Open Distance Learning Programme includes courses from Coursera, IBM, Capgemini, Google, Saylor Academy, IPR, Certificate and Diploma with TIFAC, DST etc.

Uploading of synopsis and thesis on the inflibnet portal Shodhganga, Shodhgangotri and Shodh Sindhu has helped proper tracking and timely completion of the research work.
Equity and Inclusion in Higher Education
IIMT University has a culture of Unity in Diversity, Equity and Inclusion. Students from all over the country and varied caste, creed, religion and gender are given equal importance. Everyone feels included because the environment is made such. The students are supported at each step of their journey at IIMT.
Student Support Practices
There are lot of practices being incorporated so that the students feel supported and safe.
An active Career Counseling cell conducts face to face counseling and group counseling sessions to address professional, academic, psychological and Career related issues of the students.
University has a student's friendly website where they get updated with the latest happenings and information of the University. Online lectures, assignments, tutorials and placement related information can be gathered.
Proper Technical support is given to the students in the form of incubation/ pre-incubation support, technical transfer assistance by IPR Cell, Hi-tech labs, Research and Development lab and technical certification from the Industry.
IIMT University has a lot of recreational and sports facilities available in the campus. It has a Sports Club which organizes sports fest, sports day and competitions of national level. These clubs are supported by Faculty Coaches from Department of physical education rendering proper coaching and encouragement to the students to participate in national and international level games.
Various platforms for discussions are provided to the students which are supported by faculty members and senior students of the course. Brain storming sessions, ideathon , hackathons , case study discussions ,Group discussions, debates, panel discussions, conferences , interaction with the Industry experts on hybrid mode help the students to express their point of views and understand others, thus widening the horizon for growth, upgradation, creativity and innovation. Organising Alumni Connect regularly helps to gain insight into the corporate world in a very candid manner, already shared rapport with their seniors plays an important role in probing, understanding and implementing learnings in the future.
On-Campus logistics support is rendered to the students through the Uniform outlet, cafeteria, Xerox-Print-Scan centre, Inhouse Medical facilities, Mess facilitiy, hostel facility, ATM facility, transportation etc.
On Campus Academic support is given through special classes for weak students, coaching and counselling sessions, bridge courses, extra classes, R&D lab etc.
Adequate financial support is given through various scholarship schemes for economically weak students, differently abled, child of War Martyr etc (annexure attached.)
University offers a earn while you learn scheme where students can work as research scholars, interns in marketing, HR, IT departments, intern in the IIMT Life Line Hospital and Ayurveda Hospital. Students of BJMC, MBA, HM, Home Science, Pharmacy, life sciences are engaged in consultancy projects and are given proper remuneration for the same.
IIMT University has an international cell which invites application from the international students and then takes care of their boarding, lodging and comfy & secure stay at IIMT University Campus. The residential facility given to these students are of quality standards to meet the expectations of the international students.
Yoga Classes from 6a.m to 7a.m in the morning are offered in the University, Monthly Yoga Camps, regular sports competitions, Fresh Fruit Juices, green and serene environment of the campus are few things which supports in maintaining the physical well-being of the students.
For the mental well-being, yoga classes, One-on-One Counselling sessions, sessions in association with brahamkumaris, art of living, ISCKON are arranged. Facility of five temples, meditation centre, and green environment makes a conducive environment for the mental well-being of the students.
Workshops on ethics and Values, Student led events, participation in USR activities, participation in Co-Curricular and Extra Curricular activities facilitates psycho-social well-being and ethical grooming of the students
Efforts for Socio-Economically Disadvantaged group
An institution does justice to its existence only when it serves the society at large without any prejudice of caste, creed, religion, region or gender, an all-inclusive culture promotes holistic learning and humanistic approach. After all, the onus of making professionals filled with warmth, ethics and human values lies on the shoulders of institutions of a Country.
IIMT University has given equal opportunities of growth & learning to all irrespective of Social, Economic or linguistic backgrounds. Special Scholarship policies for economically weak section of the Society, dual medium of teaching and learning, platforms for bringing the art and culture of their region, students club for breaking the socio-cultural barriers.
Student Welfare cell has an open door policy system that helps students to share any issues of inequality, partiality or injustice occurred during the course. Equal opportunity Cell under the aegis of student welfare cell takes immediate actions on such complaints.
The admission process of IIMT University gives equal opportunity to all the students, it screens the students only on the basis of eligibility and capability. Otherwise, it has a non-discriminative approach to all the admission seekers.
Provision of bridge course is available for the students coming from disadvantaged educational backgrounds, weak in some subject or requires special attention.
Students are provided socio-emotional and academic support through the Career Counselling Cell which provides One- to one counselling to the students for any psychological, personal, emotional, academic or career related issue.
Mentor-Mentee System of the University also supports this endeavor where students are free from any of the above clutches. Career counseling cell and Faculty mentor provides that rock solid support enabling a healthy mindset and thus a flourishing professional.
Anti-Ragging cell and the proctorial board keeps on moving in the university and remains vigilant and intolerant of any indisciplinary, discriminative or harassing cases. Disciplinary actions are taken with immediate effect.
Gender Equity
Sessions on Gender Sensitization of the faculty members, Counsellors, and Students are organized in the University often.
Capable Students are made Gender Champions and the task of sensitizing the opposite gender is being devotedly executed by them.
The hierarchical system of the University has equality in terms of gender positioning. From top to bottom, right to left, in each department the females and males are working in equal proportion.
Internal Committee of POSH and Women empowerment cell also works towards these goals of equality, inclusion and sensitization. Psychologists, academicians, counsellors are part of these committees and organizes workshops and sessions.
Persons with Disability (PwD)- Divyang Jan
IIMT University has wheel chair accessibility in all buildings, ramps for the proper movement of the PwD, separate washrooms, lifts and accessible water facility for the Divyang Jan.
Use of Smart Classes, Audio-Visual classrooms, extensive use of technology in teaching learning processes makes it accessible to the PwD students.
Students and Faculties are also sensitized towards the Differently abled students through awareness sessions thus enabling an all-inclusive, respectful eco-system.
Introduction of Skill based courses to increase employability potential in UG and professional programmes.
Motivated, Energized and Capable Faculty
IIMT University has always been known as the best workplace of the region. It has given abundant opportunities of growth, development and progress in one's career.
Plenty of workshops, seminars, Faculty Development Programmes are being organized regularly for the upgradation and progression of the Faculty members.
It has a clearly defined recruitment process and a well curated performance appraisal system which gives a sense of fulfilment, belongingness with the institution and motivation to perform and achieve.
Few Monetary Motivation includes
Annual increment in the Salary based on performance.

Incentives for writing research papers

Awards for distinctive contribution for the growth of the University

On-Duty Leaves for participation in Seminars and Conferences.

Fast track promotion for high impact research contribution.

Special Leaves for research related work.

There is plan for promotion on the basis of performance, experience, tenure in the institution, qualification etc., movement of the faculty members to the next level of hierarchy, giving special recognition and appreciation for better performance is a regular routine of IIMTU.

It not only appreciates, applauses and rewards the existing faculty members but also the ones who left the institution because of some personal reasons.

Recently, on 7th April, 2023, all those who tirelessly worked for IIMT in their life, contributed in its success, are not working with the institute yet are attached, feel belonged were invited for a gala feast and felicitated.

Faculty members are encouraged through financial rewards & incentives,to write research papers published in high impact journals like SCI, Scopus, UGC etc and on publishing books, publishing patents. Research Club provides a platform for research related discussions, ample guidance & mentoring from senior research scholars.

Ample opportunities of Continuous Professional development in the form of funded courses from coursera, udemy, NPTEL etc. are provided to the faculty members. Consultancy project in the University

Faculty Induction programme is organized for newly recruited faculty to get them equipped with University Policies and procedures. (Annexure)

IIMT University has a smart classroom containing Conferencing facility, ICT facilities, separate Computer lab for faculty involved in research and academics.
Technology Use, Integration and Transfer
State of the art Computer Labs, labs and workshops related to various engineering fields, labs of artificial intelligence and machine learning are all available in the University Campus.
Extensive use of educational platforms which are entirely technology based like SWAYAM, NPTEL, Spoken Tutorial, Coursera etc. Innovation in Technology are protected by IPR and Technology developed is transferred to Industry through IP Cell.
Global Outreach of Higher Education
IIMT University has an International Cell that invites application of the students from all the Countries across the globe. This helps in building a Cosmopolitan culture leading to widening of horizon, holistic growth and paradigm shifts of the future professionals.

We have overseas Collaboration with foreign Universities like University of Cyberjaya, Malaysia and collaboration with Sydney University is in process.

Our Incubation Centre is supported by PUM, Netherlands.

Organizing Faculty Development Programmes on Hybrid mode gives the leverage to get participation of speakers from international academics and research arena.

Moreover, IIMT has invited more than 60 ambassadors of different Countries till date for interaction with the students enabling knowledge, exposure and enlightment.

We have thousands of Alumni working in the foreign Countries, interaction with them also helps in building dreams beyond physical boundaries.
Promotion of Indian Knowledge Systems, Languages, Culture and Values.
Inclusion of experiential learning methodology, integrating sports in education, integration of Character Building &Value Based Courses and activities to foster holistic development of the students has given IIMT University an extra winning edge over other institutions in the region.
Value Education Cell, Indian Knowledge systems cell is also existing for the promotion of Indian Languages, Culture and Values. Sanskrit and Hindi as a subject is offered in many Courses. Workshops related to the above are organized (Annexure).
USR is integrated with the Course Curriculm as an Audit Course.
IIMTU has signed an MOU with "Sanskrit Shiksha Nayas" -an organization forming a cluster of Universities to promote Values and Ethics in the Students.

A credit Course by the name of Human Values and Professional ethics is integrated into the course curriculum of each course under the aegis of IIMT University.

Regular Seminars are conducted in all the courses in collaboration with "Art of Living" and "Braham kumaris" on Character Building and Moral Upliftment.

Regular discourses on "Bhagwad Geeta" in association with ISCKON are arranged regularly.

Students are motivated to actively participate in the activities which are related to upliftment of the Society. Charity for the old age homes, orphanages helps in building compassion, love and righteous conduct in the students under USR which is integrated in the curriculum as credit course.

When a student donates his or her blood then the feeling of oneness arises, IIMTU often organizes Blood Donation Camps where students and teachers can participate. IIMTU is the member of "Red Cross Society".

Recently, the students have themselves organized a month long "Road Safety Awareness Campaign" in association with Traffic Police, Meerut (UP) which is not only instilling Citizenship but also imbibing the values of Truth, Non-Violence and Peace.

IIMT has an "Environmental Club- Prahri" which takes initiatives to protect the environment and raise awareness among the students for the same.

Students often organizes Plantation Drives in the University and nearby places, when a person gets attached to Mother Nature then the Value of Love & Harmony seeps inside and impacts his or her behavior also.

Indian Festivals are celebrated in the University Campus with great enthusiasm be it, holi, Diwali, ID, Guru Nanak Parv or Christmas, giving the feeling of oneness, harmony and brotherhood.

R&D cell of the university organizes idea hackthons, brainstorming sessions for the students to create scientific temper and drive logical thinking and creativity in the students.

NCC/NSS Program in the university is giving the platform to the students to imbibe citizenship, leadership and patriotism in the students.

Students of the LAW Course of the University organizes Awareness Campaign on "Duties of a Citizen" with the help of role-plays, nukkad natak in and around the city to reinforce the ethical and constitutional values in themselves as well as in the society.

IIMT University has adopted five Villages under UBA with a mission to teach and educate one and all. It is when they realize their duties towards the nation and develops humanistic approach.

Initiatives on healthcare, sanitation and waste management are also organized in these villages in order to imbibe the values of citizenship in the students and to improve the lives of rural people.

Discourses of Spiritual Leaders, saints who are disseminating peace and harmony in the world are arranged. Apostle of Peace "His Holiness-Dalai Lama" also addressed the students of the University.

IIMT U is also a participating institution under Unnat Bharat Abhiyaan and mentoring five villages for their development and growth.

Students of Ayurveda College and Yoga Course conducts free Health Camps and Yoga Campaigns in the Society to make the people aware about their health and well-being.

Campaign on Cleanliness are organized by the students in the City and the nearby Places. These gives them the reason to introspect themselves when they preach people on cleanliness and citizenship.
Research, Innovation and Rankings
Internships are made mandatory after 2nd Sem & 6th Sem in three year and after 4th &6th semester in four year Course. It is included in evaluation scheme as credit Course.

Our Students of education are offered internships in neighbouring government/ private schools for teaching.

Students of Hotel Management are offered internships in reputed hotels and hotels under the banner of IIMT Group.

Students of Nursing does their internships in hospitals of IIMT and nearby region. We have close associations with them which has helped us over the years for the easy and comfortable internships of our girls' students in particular.

IIMT has received various research grants from MSME, GoI for the R&D lab and the incubation centres.

Regular workshops from START-UP India, MSME etc