Incredibly Outstanding Placements
Lareb Aziz
2023 - UpGrad
Rohit Kumar
2017 - Amazon Go
Animesh kumar
2017 - AfterShip
Ravindra Barthwal
2022 - Crypso
Uniting Over Thousands of Students from Across the Nation
Average Placement Package
IIMTU offers you abundant opportunities for a promising career
Head to the most cosmopolitan, competitive, and loving student community in India -IIMT University Meerut. IIMT University provides a 100% placement assistance which is one of the BIGGEST factor students prefer IIMTU.
Our Recruiters and Associates
Collaborations & Accreditation
The IIMT University has been established under Uttar Pradesh Act Number 32 of 2016. Gazette notified by the Government of Uttar Pradesh Dated 16 September, 2016. As per procedure for establishment of any state private university as outlined in the act, the university shall promulgate its ordinances and statues/rules and regulations for conduct of various programs.
Why IIMT University?
"With a campus spread over 100 acres of land and 20,000+ students pursuing 170+ programs, IIMT University is ranked among top 10 university in UP"
R & D
IIMT University is committed to foster the culture of research, innovation and entrepreneurship. Our aim is to provide conducive environment to Faculty members, students and research scholars to work on the budding ideas which can be transformed into progressive, futuristic and commercially viable products, technologies and businesses.
We collaborate with the industry and other universities to undertake cross-functional research and development while developing a setup leveraging competencies of both industry and academia for societal development. Various training and awareness programs are also conducted for continuous development and growth of faculty members and students.
IIMT centre for Innovation, Incubation and Entrepreneurship (CIIE) www.IIMTCIIE.com is working on various aspects. It has various cells to facilitate the researchers like.
Two business incubators.
a. IIMTU-BI – approved by Govt. of India, Ministry of MHRD & MSME.
b. IIMTU – Business incubator foundation (registered under section – 8 of company act 2013, a non-profitable entity for the promotion of research, innovation, incubation and start-ups).
Research & Development Cell..
Intellectual Property Right Cell.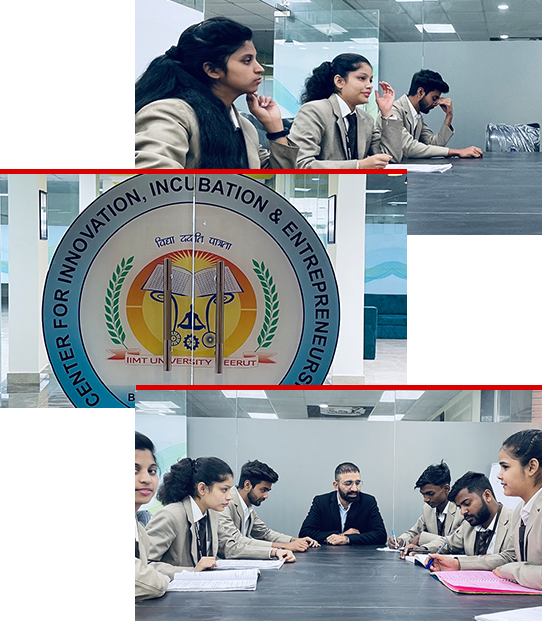 Student Speaks
As a journalism student at IIMT University, I am thoroughly impressed with the program. The curriculum is comprehensive and covers all aspects of journalism, while the experienced faculty members provide both theoretical and practical knowledge. I highly recommend this program to anyone interested in pursuing a career in journalism.
Alumni Speaks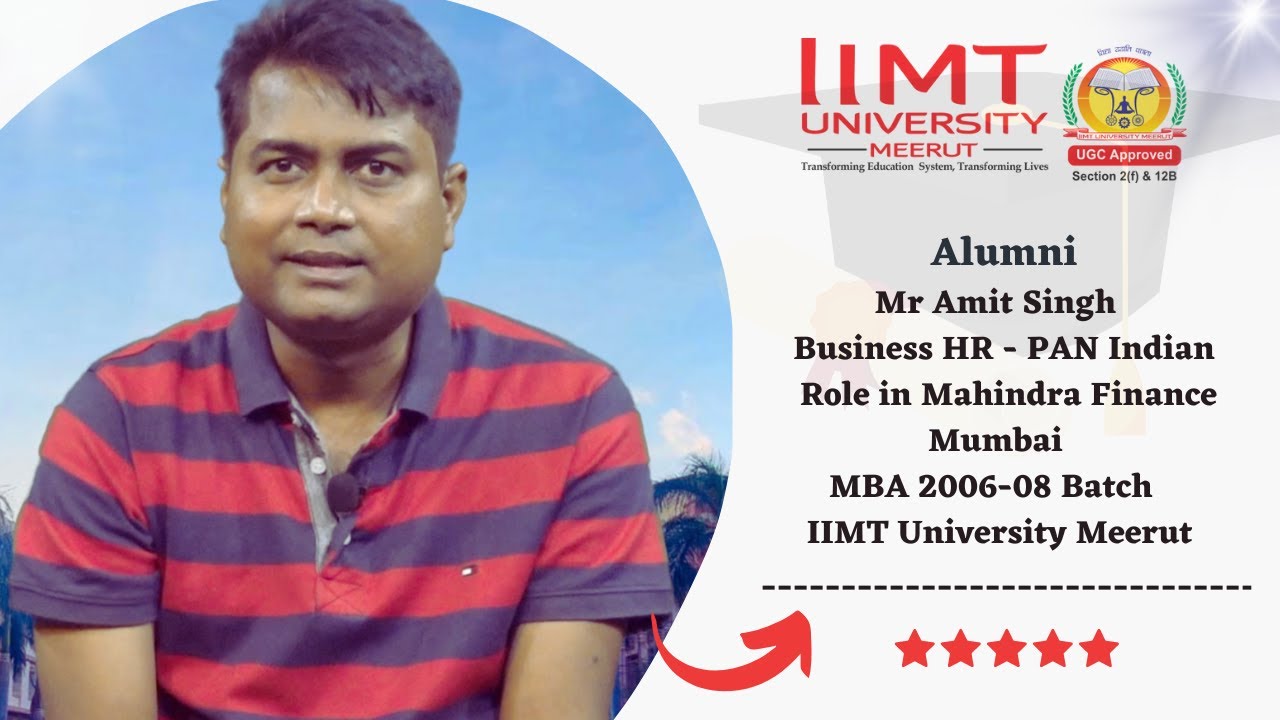 I had the honour of being fully immersed in a transformative MBA programme at IIMT, which gave me a solid foundation in human resource management. My learning experience was greatly enhanced by the academic rigour and variety of perspectives provided by my lecturers and fellow students. I must express my gratitude to IIMT's teachers for their crucial advice and support. Their knowledge, support, and mentorship were crucial in helping me develop my grasp of HR practice's and my desire to succeed in this sector. After earning my degree from IIMT, I started my career at Mahindra Finance. I appreciate the organization's confidence in me and the opportunity it has given me. My ability to use the information and abilities I acquired at IIMT to make a significant difference has been facilitated by the dynamic and forward-thinking environment in which I work.